The very latest & unique product from Napier of London. Designed in England specifically for the needs of European shooters.
Much more than a Roe Sack, the Apex Predator is a very comfortable waist bag, which can be worn front or back with easy access pockets for all the kit any hunter, stalker pigeon shooter or airgunner could want.
It sits perfectly and works well with a rifle carried muzzle up or down, Movement is not restricted and the Grip Tab buckle tabs prevent slip when crawling or climbing. The waist bag material is made from waterproof and silent HUSHTEX, while the Game sack fabric is extra strong, light weight & waterproof 420D Nylon Rip Stop. The whole bag with liner weighs just 960 Grams.
Apex Predator is so much more comfortable than a conventional roe sack or back pack, that is carried on the back and often gets in the way, and always virtually impossible to access your kit when being worn.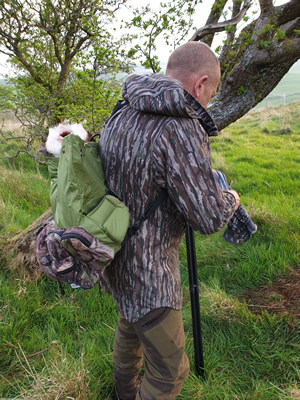 But as soon as it is needed the APEX PREDATOR instantly converts into a full sized game sack capable of carrying comfortably all small deer species, including Roe, Chinese Water deer, or even 2 Muntjac.
But the APEX PREDATOR is not just for deerstalkers as it is also the ideal way to carry 15-20 rabbits, 25 -30 pigeons ( or decoys) or a days catch of Trout or Salmon.
The detachable Shoulder straps attach in seconds and the game is placed inside a waterproof and hygienic PVC lined sack, the liners are simply clipped in place and are easily removed to be hosed or washed out. Each APEX PREDATOR is supplied with two liners allowing one to be in use whilst the other is being cleaned and dried. Replacement liners are available if required, as is an EXTRA duty reinforced version for pro hunters and vermin control personnel
The Apex Predator is closed with a tight fitting drawstring and clip fastener, this helps keep the quarry away from you when being carried and helps minimise exposure to blood, ticks, keds and other parasites. It of course also helps keep flies off the carcass.
Carrying deer by a sling against your body is a bio-hazard that can, and should be avoided.
With growing restriction on access routes, ELS margins and corners or just unsuitable terrain, it can be difficult to convey your quarry to a vehicle. The APEX PREDATOR is always ready to deploy and takes just 10 seconds to convert from a handy waist bag to a full sized sack. ( and back again).
APEX PREDATOR Features
Rip Stop 420D Nylon and Hushtex silent fabric construction.
2 in 1 design converts in less than 10 seconds.
Non-slip and comfortable, easy access waist bag.
Two hygienic & washable inner liners, supplied with each bag.
Drawstring closer minimises contact with parasites.
Light weight just 960 Grams
Waist bag capacity of 8.1 litres & game sack capacity 46 Litre TOTAL CAPACITY of 54.1 Litre
12 month warranty
Replacement liners and EXTRA duty version readily available