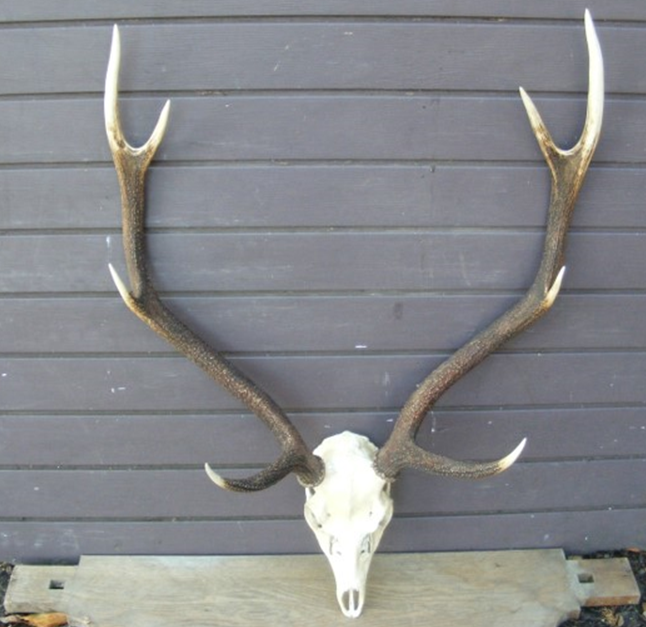 It was Monday 8th of April and I was heading up MAKAHU road to hot springs PUKETITIRI, the weather had set in to heavy rain. I Parked the vehicle in scrub and with a heavy pack crossed a very low MOHAKA river.
No sign of anyone else, I think the weather had put most hunters off but as my old mate John would say "good to travel in bad weather, get to camp and be ready when weather turns good". A couple of hours later I reached an old bivouac shelter (Improvised camp) which John and I had made years ago. The rain was still coming down hard and the bush was very wet. It was late in the day and I was in pack gear, so I changed into some good dry clothes which made me feel better, then gave my old 1949 BRNO 21 7MM a good dry down and oil up. I used my Napier of London deluxe rifle cleaning kit compete with rod patches oil and best of all a spray can of gun cleaner lubricant for lasting rust protection. Great stuff best things since sliced bread. I had an early night as weather still raining hoping for a better day tomorrow.
TUESDAY
The rain had stopped, it was a good clear, fine morning and we had heard a few sika roars during the night. Best of all there was no wind. Filling the thermos and with tea made, a big sandwich and full day bag I put a dry patch through the rifle barrel and I was off.
The bush was very wet but I wasn't going very far. Being careful not to leave Human sent around I reached one of my good clearings which I have shot good eight pointers off before. Well if you could call it a clearing! It is a great spot for roaring stags.
Open in places with MANUKA and pepper woods thick in places I like to sit in one place sometimes all day let the stags come to you, there had been a few roars close, very close at times. After having a cup of tea and sandwich I sat for about six hours. Then I heard sticks breaking I gave the MANUKA bush close to me a good shake then rubbed a piece of wood up and down it, boy that got him worked up. He let out a roar and came straight for me within 40 meters I could see eight good points and great length so I waited for a good clear shoulder shot and fired. He spun around and took off I knew he would not go far as he was hard hit by the blood trail 20 meters. There he was caught up between two MANUKAS.
And what a surprise when I pulled him out of the bushes, he had fallen on and old sika pile of bones which must have been shot wounded and lost or died of old age.
The stag I shot had a great head skin, so I had the job of taking the cape off and seeing to the meat. Then it was back to camp in dark.
The head I shot length 33 DOUGLAS SCORE 190
Head found length 31 DOUGLAS SCORE 181
WEDNESDAY
A great day again, fine with no wind so out for hunt again, this time in a different place. A place where a good mate of mine shot his first eight pointer. It was DOUGLAS SCORE 205 and not bad for a first, he got a bit restless with my way of hunting but it worked for him.
After sitting there for the day we did see two good stags one eight and one seven pointer. We managed to get them on film so not all lost and the odd hind which the stags were following.
Had a great day so back to camp, good feed and into bed.
THURSDAY
Up early to find a great day again, we went out early in the dark this time as I wanted to check out a small gully which holds a few deer most of the time and always plenty of rut pads, although it is hard to hunt there after the last big storm a couple of years ago. There's plenty of windfalls so found a good spot to sit.
I heard the odd single call, but it was a bit on the quite side, still you never know, time will tell. We did see the odd hind also a four pointer following them as normal. After sitting there for some time having a cuppa, a deer started to whistle at me. Then I felt a breeze on the back of my neck
I gave it a bit of time but things got worse coming from the north, no good for bush hunting so I got back to camp had an early tea then hit the sack for an early start in the morning home
FRIDAY
It had been a good few days in bush and I decided to hunt my way out. No rush, I had all day and took a very slow trip out reaching MOHAKA river, got across safely and back to Trusty old Subaru.
A great few days in the bush.
Bob spain.