Most of late July and early August will see me stalking around home in the SW of Scotland however, on this occasion I had Mark booked in who was nearing the end of a naval career in the marines, and for travelling purposes stalking up in Angus suited as he could easily then travel from his base up around Aberdeen. Mark wanted to gain his DSC level 2 and intended to pursue a career in the stalking sector.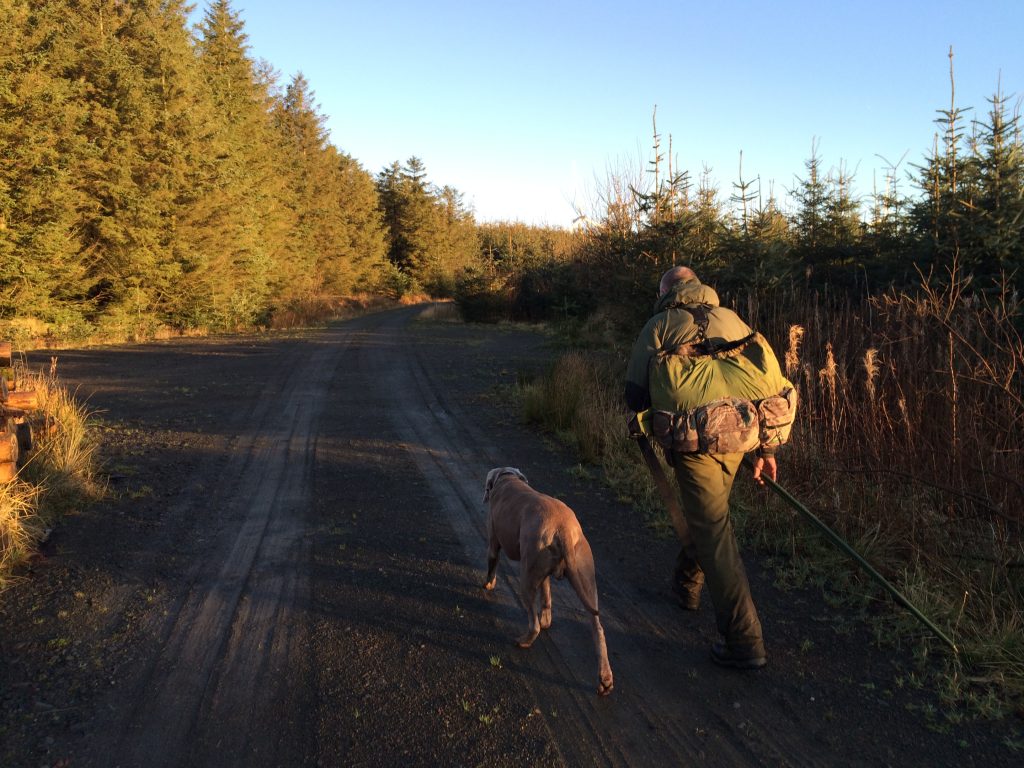 That evening saw us moving quietly up the side of a broadleaf strip sandwiched between 2 grass fields . I told Mark to set up on the rifle and watch for movement in the field in front of us, we did not have a fantastic view but could see enough through the gaps in the trees. I always wait a little while for things to settle before starting to call and while we were doing this movement got both of our attention; the fox red hint of a roe in summer cost could clearly be seen moving slowly though the undergrowth. We got glimpses as he made progress across in front of us – I double checked in whispered voice that Mark was ready; and started to give very quiet and gentle ' contact ' peeps on the Butilo. Initially, the buck stopped and I thought he was going to respond but then totally ignored the call and continued to work across us and away into the undergrowth. Again I waited a few moments, Mark shrugged and made to move but I told him to wait and stay on the sticks. I gave a few calls on the Nordic roe, mimicking the agitation call of a doe that is being pressed –and boy did that do it. Crashing and cracking twigs had the yearling bouncing back towards us to suddenly appearing in front of us about 30 yards away. But not in a position for Mark to shoot, as he was partially obscured by a willow tree with a branch smack over the vitals; another call and he was out again this time 10 yards away staring intently at us. What followed was a stand-off for about 5 minutes with no body daring to move, and then he bobbed quick as flash back into the trees, another call had him back again but this time he came in slightly to our right and made the mistake of offering a very nice broadside shot in a little clearing again only about 20 yards away. He dropped immediately on the spot to the shot, I do hope though he managed to experience the delights of a young lady before he met his end. He had certainly felt the wrath of a bigger buck as we noted the jab marks on his back end when we gathered him up for the gralloch.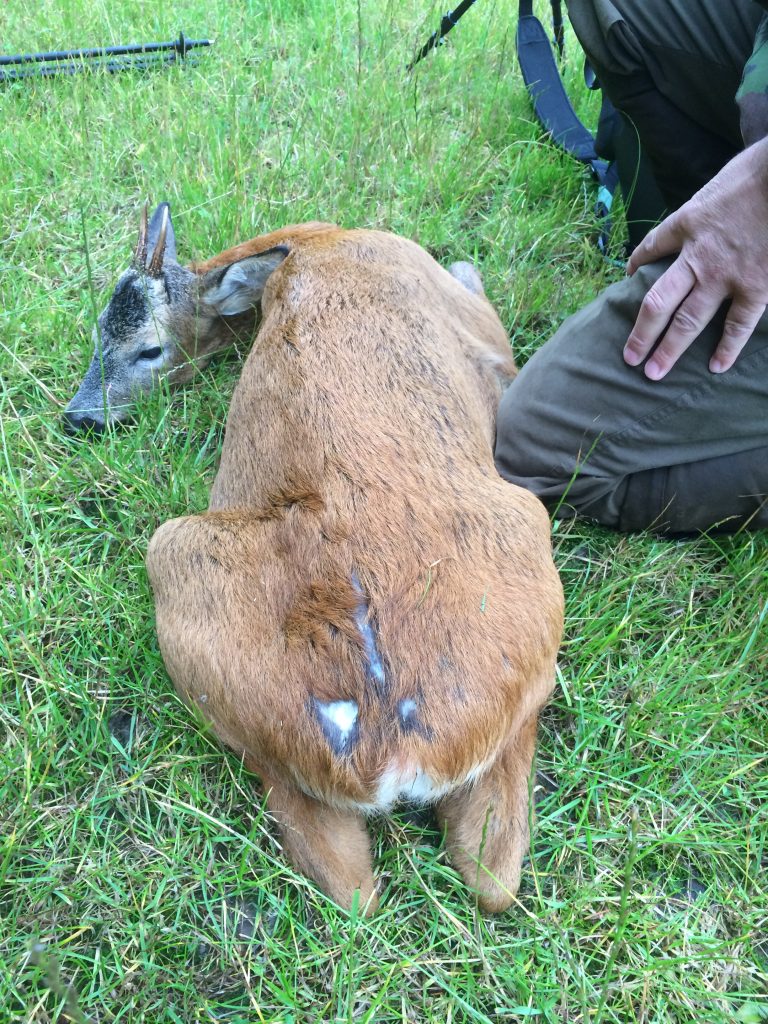 Mark went on to complete his DSC 2 as we did witnessed outings for the next 3 days and he shot 4 cull roe so everyone was happy. No matter how many times I call roe, it is still one of them most magical experiences in stalking, not to be overdone but used sparingly and with some though to what you are doing it is an effective tool in the stalking box of tricks. It is particularly rewarding as well if you can achieve this for someone to experience for the first time. Mark went on to stalk and shoot 4 further roe on the trip, this time him leading the stalks and making all the decisions.
This is however where the Napier finders keepers came into play – I had lent Mark my bone saw to open the chest cavity, and after completing the gralloch he had put down in the long grass and we only managed to locate it because of the dayglow pink band on the handle. As I have said before sometimes the simplest things are so very useful – that would have been best part of £50 gone.